In this article, we are in a pickle about how many food related idioms or proverbs we can squeeze into one reading. But what we're more excited about is that we are going to spill the beans on some of the fun recipes and ideas you can make with our three different BamNut milks. These three tasty recipes can be used for breakfast, lunch, or just a sweet treat, for any other occasion as you wish!
We promise you that the ones we've picked are going to be the greatest things since sliced bread, and you can choose to take our words with a pinch of salt, or you can try them out for yourself and be your own judge, after all, the proof of the pudding is in the eating, so let's get on with it!
Fluffy Pancakes
Ft. BamNut Airy Milk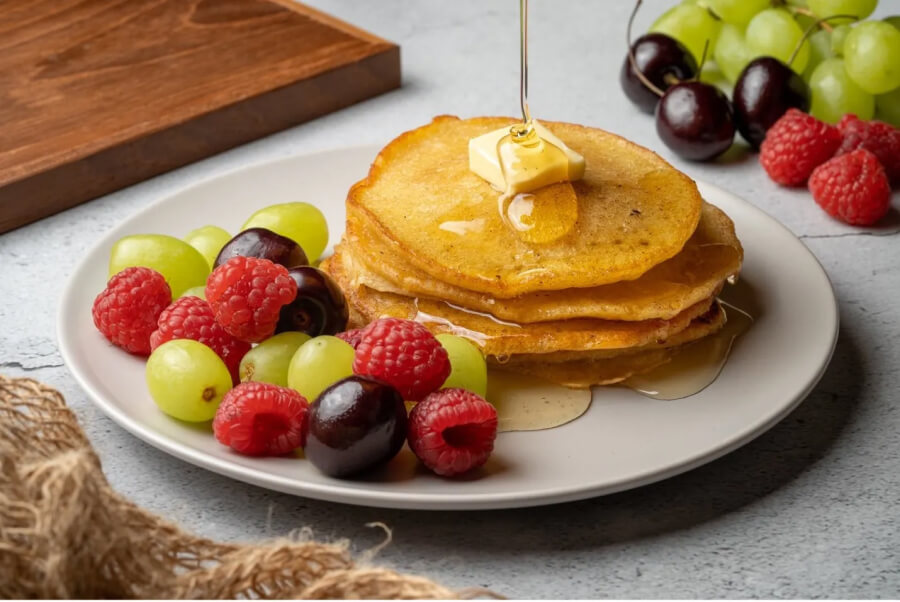 Switch your sad pancakes made from boxed pancake mixes, use our recipe instead and make them up from scratch! Whip up this delicious stack any time of day and we guarantee the fluffiest pancakes you'll ever eat, you'll almost think you're at a restaurant. This recipe feeds 1-3 people depending on the size of your pancakes, and the number of pancakes you each consume, heads up though, you may not want to share because of how tasty they are. You could be eating these pancakes as soon as 20 minutes from now with just how easy they are to make!
You'll need:
1 egg, separated
100g flour
100ml BamNut Milk, Airy
25g butter, melted
1 tbsp sugar
½ tsp baking powder
½ tsp vanilla extract
½ tsp salt
Here's how you make the perfect fluffy pancakes for a Sunday brunch at home:
Start by mixing your BamNut Milk, egg yolk, butter, and vanilla extract in a bowl until combined. Now in a separate bowl, combine your flour, baking powder, sugar, and salt. Now mix together your dry and wet ingredients until smooth, be careful not to overmix. Using your egg whites now, whisk them in a different bowl until they form a stiff peak, then gently fold the egg whites into the combined mixture. Lastly, cook your pancakes on a medium heat pan, spooning them out to your desired size, until golden brown. Top with fruits, maple syrup, or other sauces of your choice, and enjoy.
Want to have something refreshing for a Sunday morning, a hot work afternoon, or a quick pick-me-up? This recipe is the perfect refreshing snack starring the classic, our everyday BamNut milk.
DIY Acai Bowl
Ft. BamNut Everyday Milk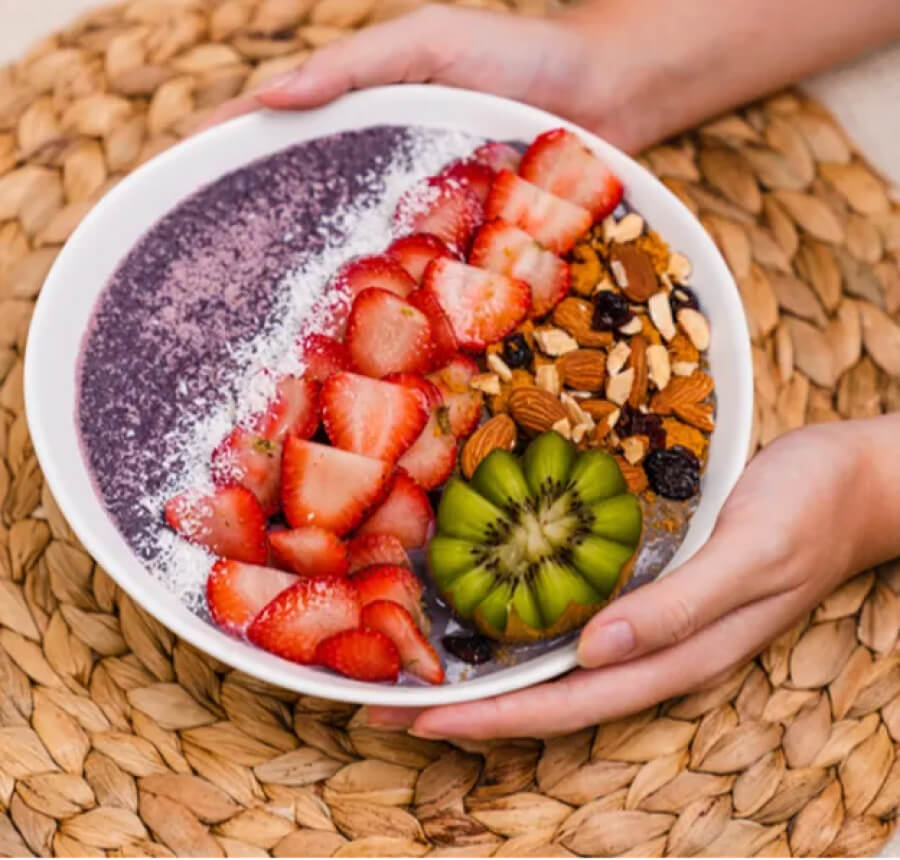 This recipe explores the BamNut way of making an Acai Bowl. This Acai bowl is the best healthy snack for a hot afternoon, and it only takes two steps. With such a quick recipe you can make it anytime when you need to cool down. Using a minimum of 5 core ingredients this Acai bowl could not be easier!
Ingredients for the Acai Bowl:
300g frozen Acai purée, unsweetened
100g frozen berries, e.g. strawberries, raspberries, blueberries
180 ml BamNut Milk, Everyday
Maple syrup to taste
2 tbsp chia seeds
Ingredients for garnish:
1 banana sliced
4tbsp chopped pistachios
1tbsp toasted coconut, to taste
Honey to taste
3 chopped strawberries
Half a kiwi
Here are the two easy steps to make this BamNut Acai Bowl:
Start by adding the frozen Acai purée, frozen fruits, BamNut milk, chia seeds and maple syrup to a blender and mix well until combined. Then scoop the acai blend into a nice bowl, garnish with fruits, nuts and anything else you desire. Voila! Your healthy treat awaits!
To round it all off, it's a must to have something decadent and chocolatey. Here is a yummy chocolate dessert you can make at home easily using our milk!
No-Bake chocolate tart
Ft. BamNut Barista Milk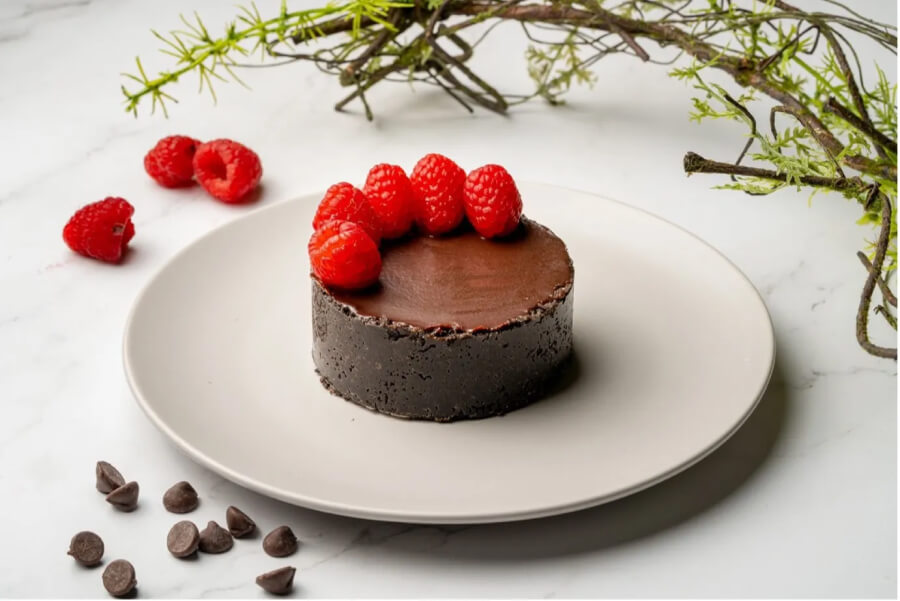 This No-Bake Chocolate tart that traditionally serves one is the perfect dessert for a special occasion; like an anniversary or a birthday, or even just to enjoy by yourself after a long day, it doesn't take much time, and it's vegan too! Who said you couldn't have your cake (tart) and eat it too?
Although this dessert requires 3-4 hours to set, it can be prepared in just under 20 minutes and does not require an oven making it that much easier to whip up.
With just these four main ingredients you are ready to get started; vegan butter, 7 Oreos, vegan chocolate chips, and of course our BamNut Milk, for this recipe using the BamNut Barista version. For decoration on top, we decided to use raspberries, although you can use any fruit you like, whipped cream, or even just leave it plain.
Ingredients for the tart shell:
30g vegan butter, melted
7 Oreos, crushed
Ingredients for the filling:
100g vegan chocolate chips
75ml BamNut Milk, Barista
Here's how you put it together so you can enjoy it;
First, to create the tart shell, pulse your Oreos and melted butter in a food processor until their combined in a crumbly mixture. Then put the mixture into a tart shell/form to create the base shape, for it to become firm place it in the freezer for 30-40 minutes allowing it to set.
Moving onto the filling; in a saucepan, bring the BamNut Barista Milk to a boil, when boiling mix in the chocolate chips until they have melted. Once the tart shell has fully set in the freezer take it out and pour the melted mixture into the shell. Lastly, let everything set in the fridge for 3-4 hours, or even overnight if you have the time, then enjoy!
In a nutshell, these are a small selection the amazing desserts and creations one could make with BamNut Milk! Get creative, and tag us at @whatiffoods to show us what you've done! Or, if you're really not up for it right now, just have some fun counting the number of idioms relating to food, that we managed to bake into this blog! 😎