Here in Ghana's Northern region, around Tamale where our partner farmers grow our BAMnuts, the Dagomba are the main people. They speak their own language, called Dagbani. In the 25 communities we partnered with last year, there are other peoples and languages, but Dagbani is by far the main spoken language.
When I arrived here to start the project with WhatIF Foods, in February 2022, I visited all 25 communities with Mashud Fuseini, himself a Dagomba man and Founder and CEO of Kasima Ghana, our main project implementation partner. I'd been here for a scoping visit in November 2021 and with Vinod from WhatIF, Mashud had taken us to visit 7 communities to assess their interest in partnering with us on a regenerative BAMnut project.
They all said they were but there was justified cynicism too. The farmers had been visited by many companies over the years, proposing this project or that, committing to do X, Y or Z and in some cases, even extorting money from them. In almost every case, the communities told us, the people never returned.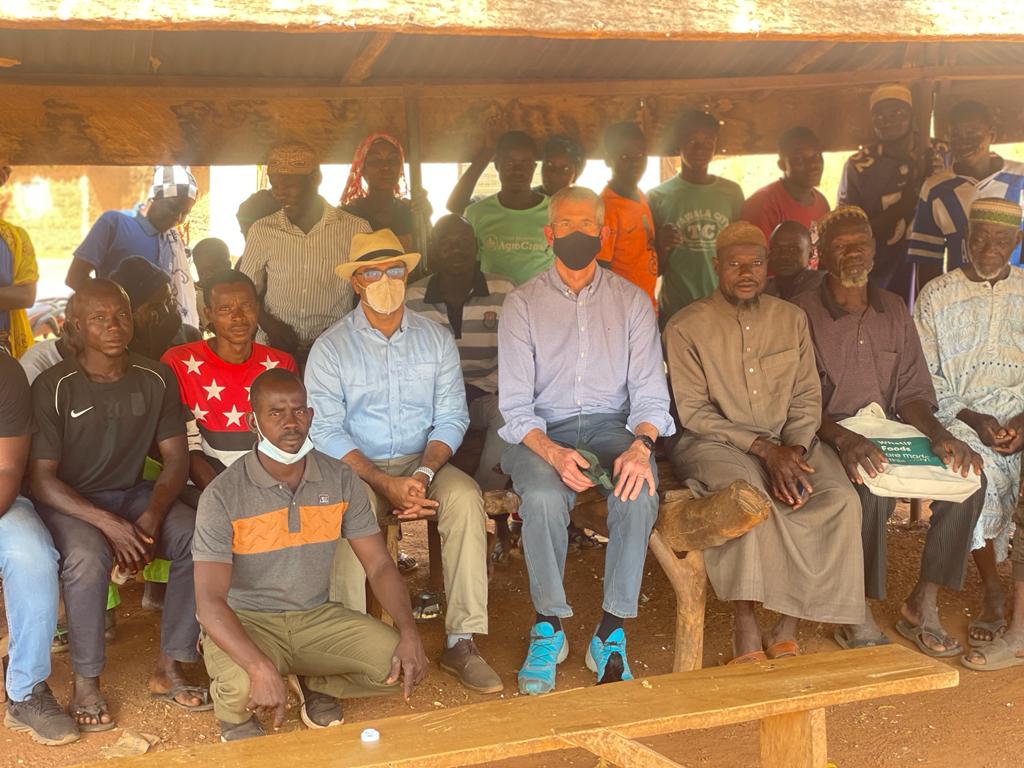 One of the communities that we visited in November 2021 together with Vinod. Definitely no Lama Lamas then
"Why will you be any different?" they challenged.
Good question, difficult to answer. We could of course have said, "Oh, we're different, don't worry," but why would they have believed us? They'd heard it all before.
"All we ask is that you judge us by our actions," we responded.
When I returned to start the project in February, that challenge was ringing in my ears. WhatIF Foods's deep, regenerative philosophy would be put to the test here and it was my intention that not only would it not fail, it would flourish and bring life back to the soils and the communities who farm them. We had to be good for our word.
We visited the communities over and over in the months leading to planting season. Every time, they'd gather, and we'd discuss our intentions and plans. There wasn't much smiling. This was serious business for them. We were asking them to invest scarce time and funds into preparing their fields. We were asking them to take a chance on us that we would supply seed and even more critically, that we'd be back at the end of the season to buy their beans.
Because we started late, we ended getting the seed to them later than ideal. Of the 1,600 who had registered interest – honestly, I'd have been super happy with 200 - some farmers planted other crops on the fields they'd prepared for our Bambara seeds. 980 hung in there and planted Bambara. The season unfolded with good rains, and we did support them with the technical advice we'd promised. We visited over and over and started to see a change in the farmers. Now, there was smiling! These are wonderful people and when we weren't discussing serious stuff, there was joking and laughter. It felt like progress.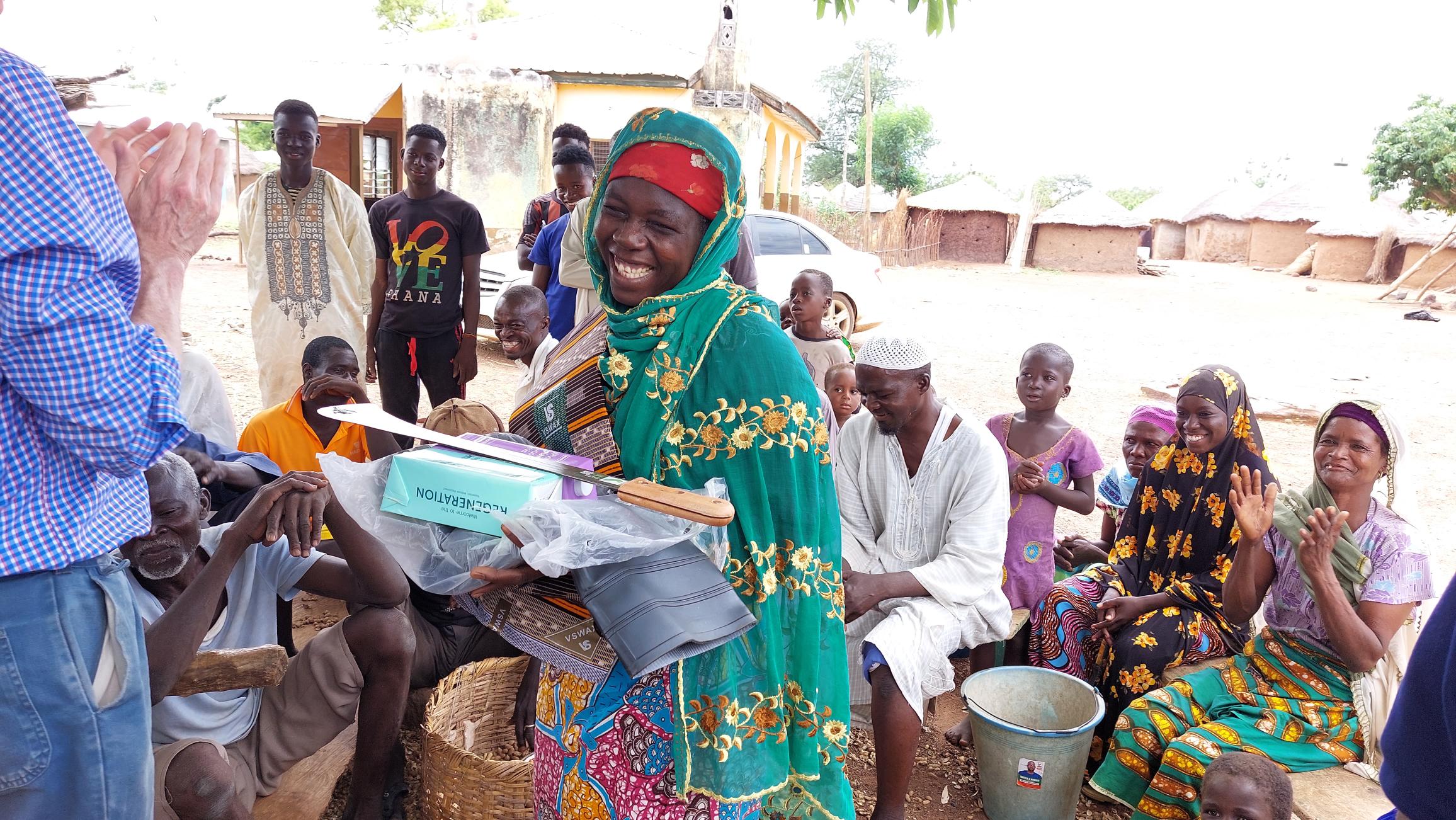 A candid moment of laughter and smiles in the Nakpatua Community,  Kumbungu District
When I take photos, I have this terrible habit of smiling a massive, silly smile; it drives my wife crazy! Nonetheless, it helps people relax and they tend to crack up and smile happily with me whenever I do it. It makes for much more joyous photos. "Look at this crazy fellow!" It took me a while before I had the courage to try it here but eventually, as we were in the fields planting in July, and the farmers were joking and apparently happy to see me, I asked if I could take a photo. "Yes, yes, no worries."
My massive silly smile working hard for the camera
I raised my phone and instantly, all smiles disappeared! Grim! The farmers looked deathly serious, often looking at the ground. I'm sure there are cultural and historical reasons for that, some of which may be sad, but after a few snaps with the uncharacteristically unhappy faces, I felt it time to try a different way to better capture their wonderful spirit.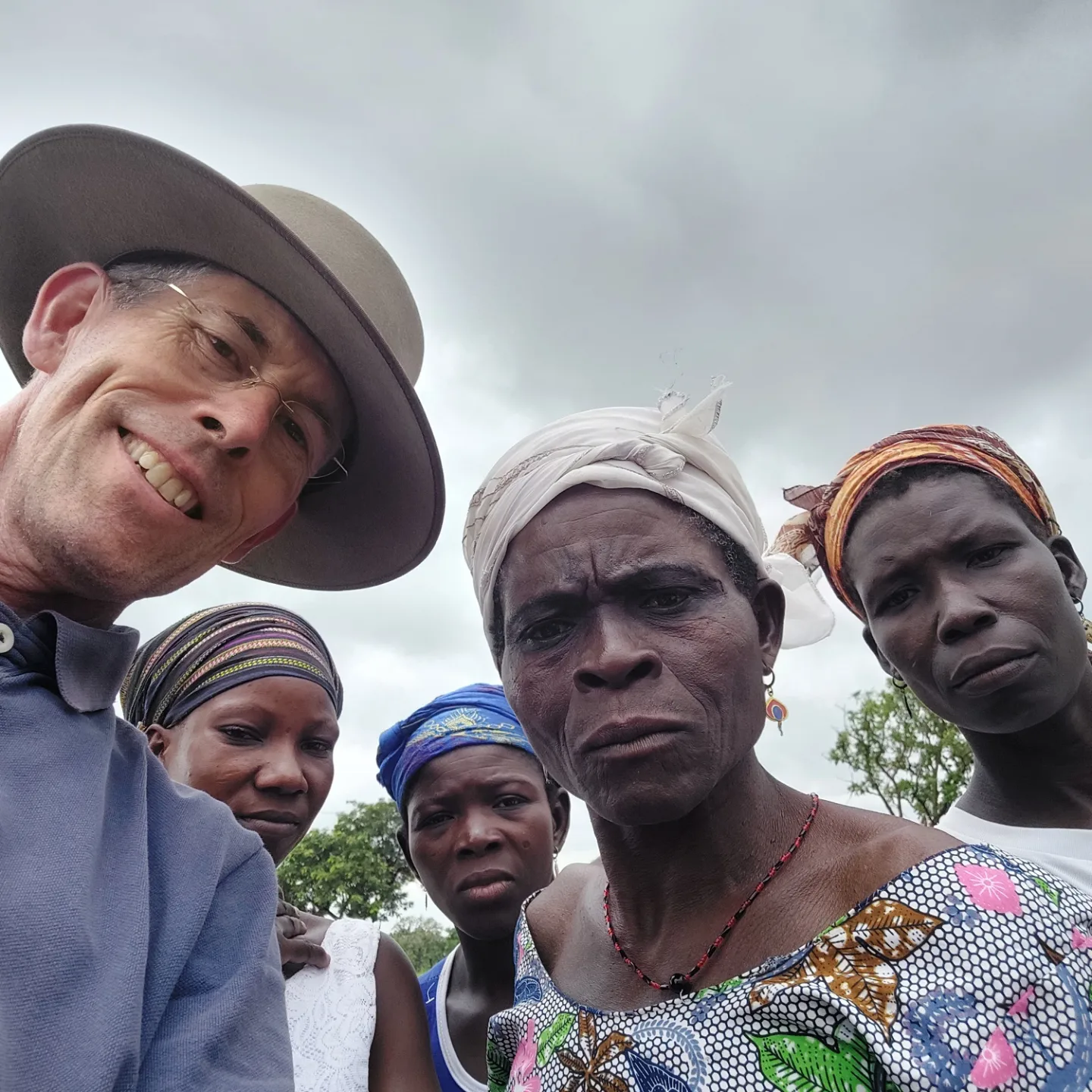 From wary to joyous: The forming of a special bond
Next time I raised my camera, I pulled my own massive, silly smile. It took a moment or two of some shock – white people don't do that - before the farmers gathered themselves and comprehended what I was doing. There was a short moment of utter disbelief, before almost universally, they totally cracked up and split themselves with laughter! It was beautiful!
It made for a wonderful series of photos. I grew in confidence and each time I'd raise my phone, my silly smile would emerge, and the farmers would crack up.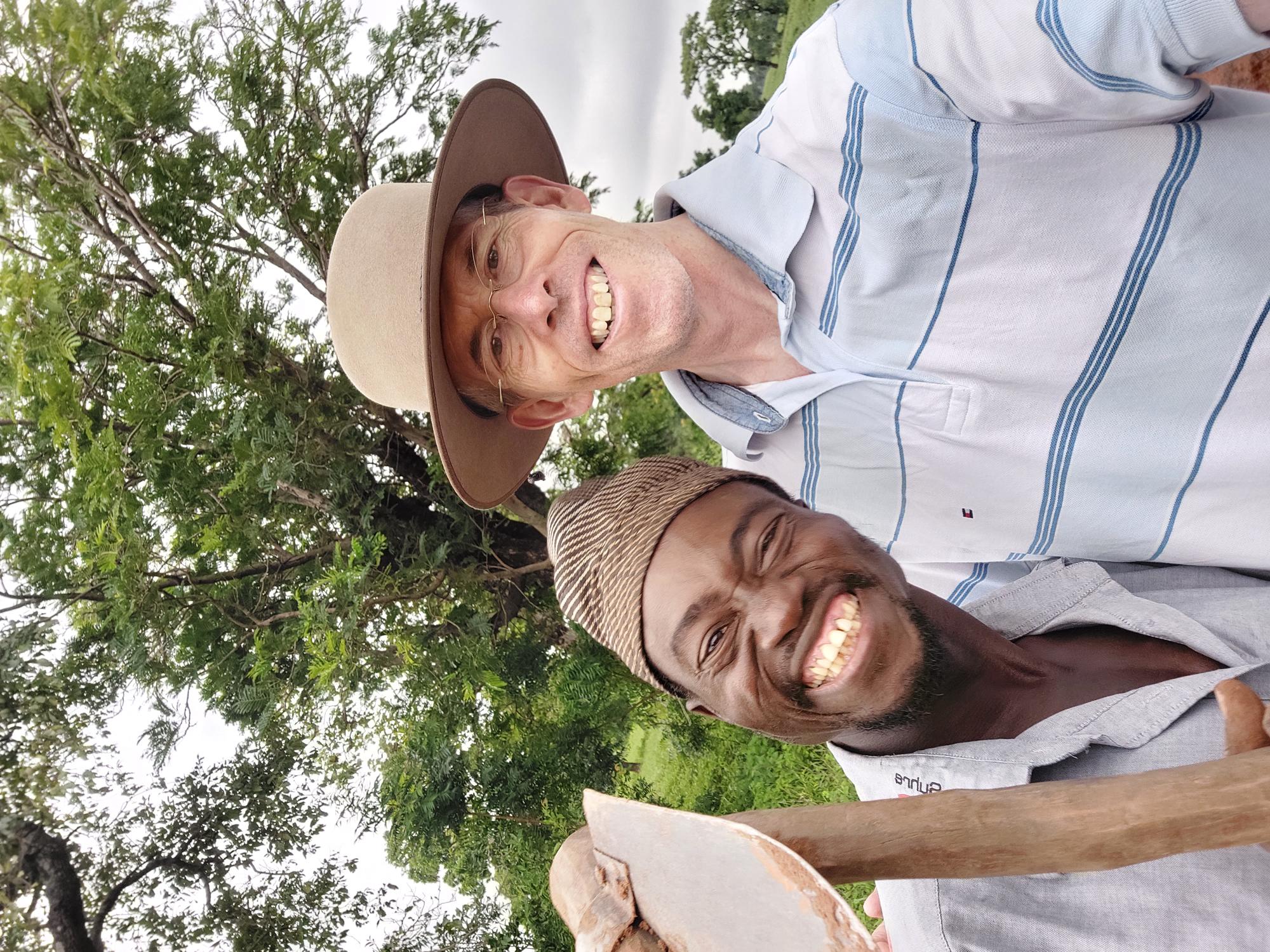 "And the best smile award goes to!"
There were some hold outs though, and on one occasion, I turned to our field officer after my silly smile had failed to achieve 100% conversion and asked, "Do you think you could ask them to smile?"
"Sure!" he said.
"Lama Lama!" he urged which I soon understood to be "Smile!!"
Almost everyone cracked up, including some of the holdouts, but once I started suggesting, "Lama Lama" and smiling my silly smile, the whole crowd would erupt. They love it when I speak my poor Dagbani.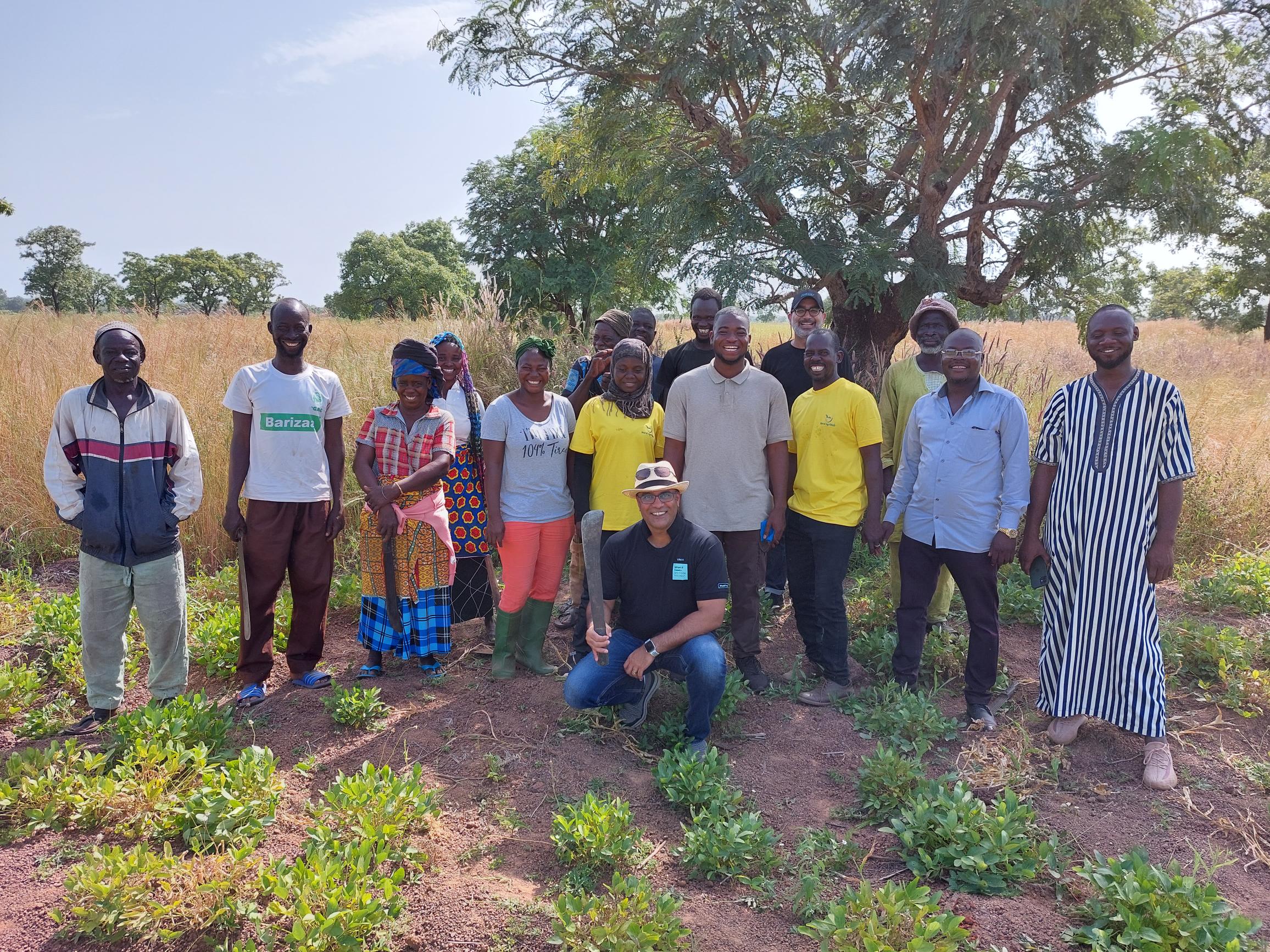 Achievement unlocked: 100% smile conversion
Magic! It broke all the barriers and instantly the farmers grew more friendly. It helped that I was there in the fields with them and that I kept coming again and again, just as I said I would. When it was time for weeding – back-breaking work for the farmers as it's all done by hand - I was there and even tried some of the work myself. That got them laughing!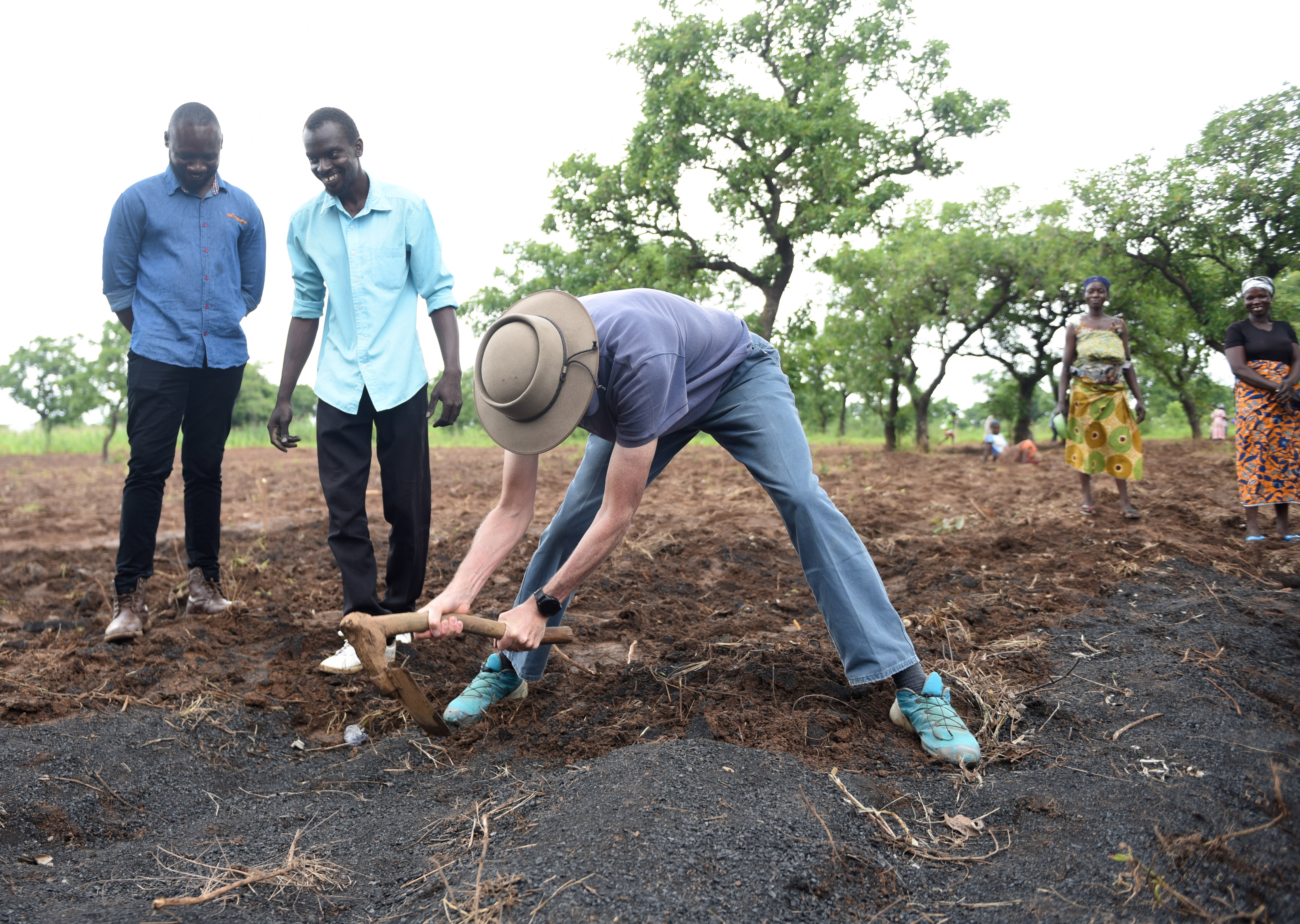 Look at that posture! All the yoga classes finally paying off
Then, at the end of the season, we arrived, as we said we would, in each community, to buy their beans. It was a wonderful celebration!
Some of the farmers hadn't weeded and it badly affected their yields. Despite all our assurances, all our visits, they just couldn't believe that we'd ever come back and buy, so they hadn't put the work into the crop, "Why waste time weeding when these guys just won't return?" When we did and paid a good price, there was much happiness amongst those who had weeded and cared for the crop and regret amongst those who hadn't.
There was a lot of Lama Lama too! In some communities, I was charged with being the cashier. After their beans were weighed, the farmers would come with their receipt to where I was sitting. I'd count out the money and as I handed it over, I'd give my massive silly smile. Not because I wanted to take a photo. No, it was just to celebrate the beauty of the moment. It was closure. This was the moment the farmers believed would never come and yet here it was - we were handing over cash under the meeting tree in their own community.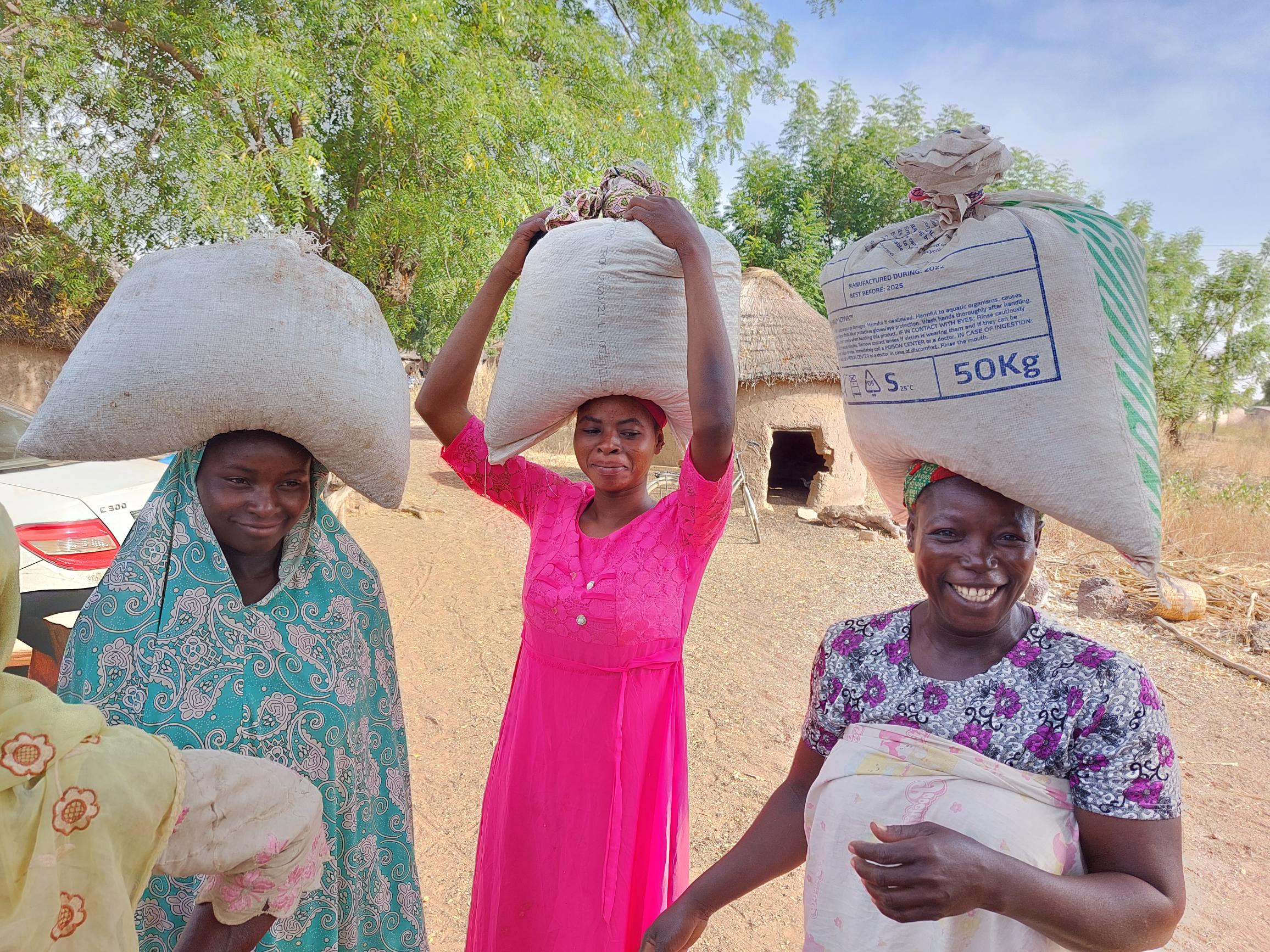 The OG wonder women. Who needs the gym when you have Dagomba genes?? Balancing 50kg on their heads – even with no hands!
Every time it happened, the farmer's own smile would beam forward and, though I don't yet speak Dagbani, there was a moment of wonderful, human connection. The surrounding farmers would erupt into raucous laughter and chat away about the silly white bloke. I wasn't trying to be a comedian. I was just genuinely happy that all the work had come to fruition.
Now, as we prepare for the next planting season, with all the seed already in our warehouse, and 6,000 farmers registered to plant from our 25 partner communities and new communities in new regions, we visited the communities again. We wanted to share prizes for the Champion Woman and Champion Man farmer in each community. This was determined by their yields and the level of work they'd put into their fields.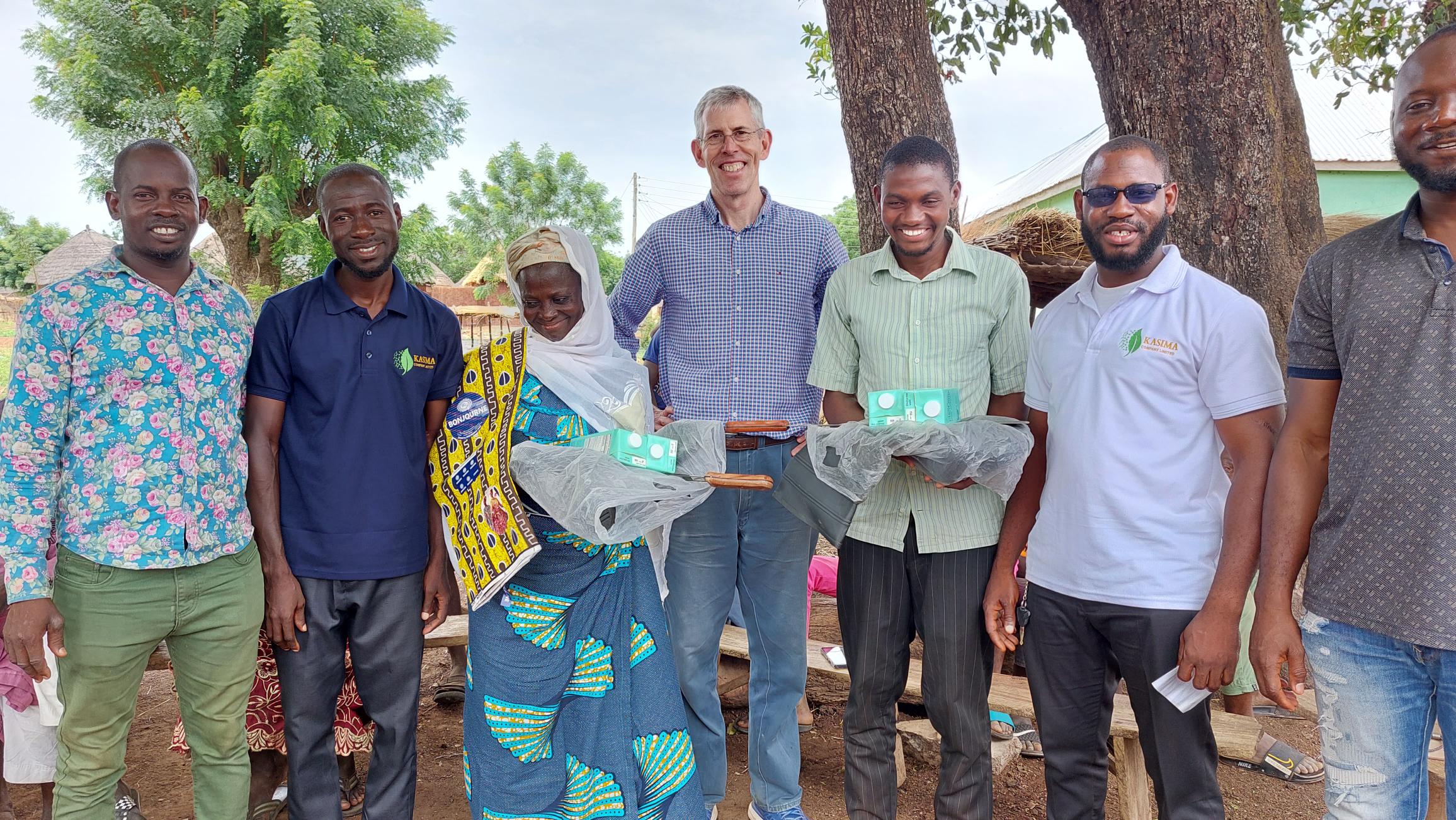 Honoring the Woman and Male Champions of the Gupanirigu community
Another amazing celebration!
The start of any journey is generally the hardest. We don't really know where we're going, or how to get there. We make mistakes. Those that join us for those early steps take a big risk; they suffer with us and it's those early relationships that so often become the closest, the ones we value most as things roll forward and get easier, because they were forged in tough times.
Our community visits this past week were celebrations of these growing relationships. From the justified cynicism of those first visits to the wonderful smiling, the beautiful laughter, and celebrations just over one year later, our journey is unfolding as we'd hoped. There is still so much to do but this week, we paused a moment to honor not just fifty champion farmers but everyone in all our 25 partner communities. Our project's foundations, anchored in these precious, fragile, trust-based relationships, were strengthened. The garden was watered. There were wonderful speeches, many prayers, a lot of laughter and so, so many smiles – it was Lama Lama City! So much human connection.
As we returned home from the last visits, there was a silence in the car as everyone took in what had been a humbling, moving week.
Regeneration goes so far beyond notions of sustainability and connects us to the land and to each other. It connects us, most beautifully, with ourselves.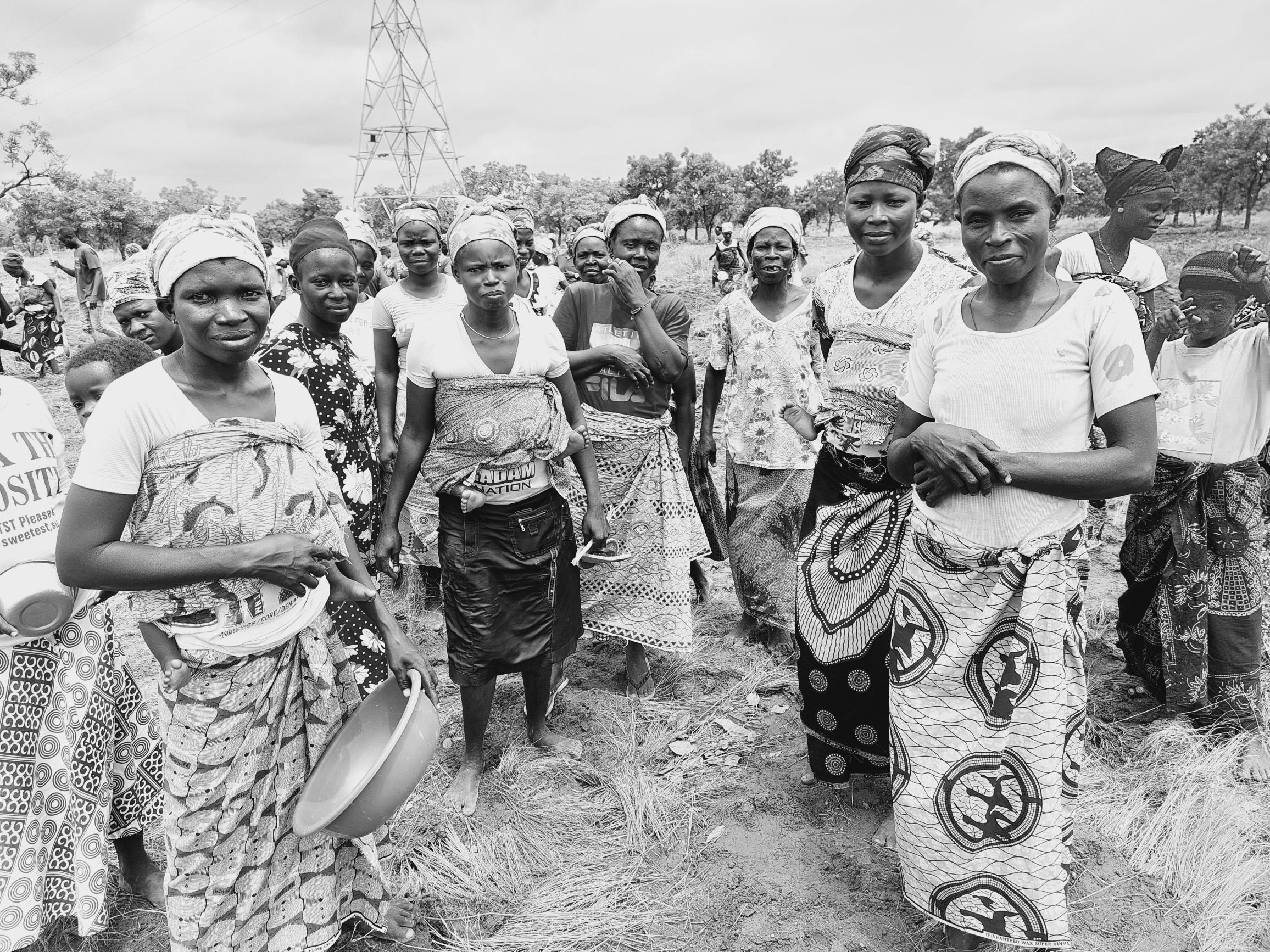 A beautiful journey, just in its beginning
Our journey together with the farmers is a great one, very much worth the undertaking, and what better way to travel it, than with a big, wonderful Lama Lama writ large on everyone's face?