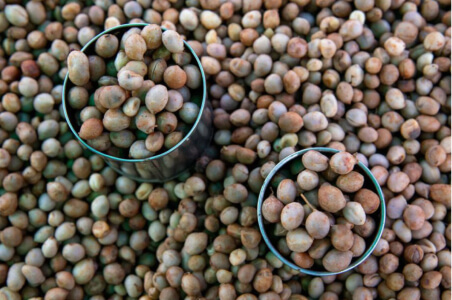 We'd love to take you on a journey! A journey to West Africa and tell you about the incredible farmers we are sourcing one of our main ingredients for our products from: the Bambara groundnut...
Listening, Sustainable Sourcing and being a Reliable Partner

We reached out to farming communities in West Africa to understand how the Bambara groundnut supports their livelihood as a food source and a means of income.
By engaging with the farmers and consulting with local experts, we are in the process of establishing a smallholder farmer outreach program to grow and supply the Bambara groundnut in a manner that protects the cultural, social and economic significance of the crop to these communities. We partner with a Ghana-based distributor to source Bambara groundnut at fair prices directly from the farmers to ensure that they retain a fair portion of the profits.
We purchase a guaranteed quantity of Bambara groundnuts from farmers and incorporate it as an ingredient in WhatIF Foods. The more we succeed in selling these products, the more income we can provide to farming communities.
Meet the Bambara groundnut

The Bambara groundnut is a legume that is native to the Sahel region of Africa. It has survived decades of crop consolidation due to its role as an insurance crop for smallholder farmers. Due to the fact that the Bambara groundnut is a legume, it also returns nitrogen back to earth and hence has a tremendous positive environmental impact.
It has all the essential amino acids and is also nutrient-rich, comprising 65% carbohydrates, 20% protein and 5% oil. It can therefore be used as a "Complete Food" by farming communities. Farmers are willing to plant a greater quantity of Bambara groundnut as a source of income so long as there is a market demand for it.
The Bambara groundnut thrives on poor, dry soils without the need for pesticides and fertilisers. This low agricultural input and the fact that it can be consumed locally, makes it an ideal crop for smallholder farmers who are unable to afford the high initial capital outlay and risk posed by fluctuating markets associated with traditional commodity crops.
Driving positive impact

Today, smallholder farmers are facing many challenges.


Infrastructure: Due to the lack of piped water, villagers have to spend about 4 hours a day to fetch water from a distant source. This means that they have little time or energy left to grow more crops.
Low income: The Bambara groundnut is mainly used as a subsistence crop by farmers as there is limited demand from traders.

No land title: There is no formal land title or registry in many communities. The village chief is responsible for land allocation. This means that farmers who wish to plant more Bambara groundnut will either have to convert existing land use or venture further outward to find unallocated land.
Inefficiencies: Farmers do not have the know-how or technology to grow Bambara groundnut more efficiently to increase yields. Most farming techniques and timings are based on historical practices which may fail to take a changing climate into account.
Bambara groundnut seeds are planted 10cm deep into small fields up to a quarter of a hectare in size. The plant takes about 3 months to grow before the seeds are harvested by hand. The Bambara groundnut is then dried on straw racks that are elevated from the ground for a week. Proper drying eliminates the likelihood of insect infestations and ensures the product can be stored for a long time.
After harvesting, farmers sell the Bambara groundnut to traders who then bring the produce into the town center. In Tamale, Bambara groundnuts harvested from many different villages are brought to the Central Market for trading.
Our Work - Responsible and Sustainable Sourcing

A Guaranteed Minimum Purchase Order: We have placed a minimum order for 5 full container loads of Bambara groundnut in 2020. By guaranteeing this minimum purchase upfront, farmers will have the assurance to increase their yields for the next harvesting season.
A Closer Relationship With Farmers: The supply chain for many commodity crops involve numerous middlemen who take a disproportionate share of the revenue, leaving farmers with little income. We work with a Ghana-based company that sources Bambara groundnut directly from farmers, ensuring a more equitable distribution of the revenue.
Sustainable Sourcing: Farming communities rely on their Bambara groundnut as a subsistence crop. Through close communication and demand forecasting, we ensure that our orders do not encroach into household supplies intended to feed these communities.

Fair Prices: By creating an export market for the first time for Bambara groundnuts we are able to purchase the Bambara groundnut at a higher price than the prices normally available to farmers locally or even compared to other commodity crops.
What the Future brings

But our work does not stop there, in the foreseeable future, we want to continue our work and extend it to developing infrastructure and a dedicated Bambara groundnut breeding program.
Let's work together to uplift smallholder farming communities.
Meet our WhatIF Adventurers
Lucas van der Walt / Managing Director CocoNutZ:
 Lucas is currently leading CocoNutZ, a subsidiary of NamZ based in Queensland, Australia. He plays a pivotal role in assisting local farmers in securing their future incomes, which are currently totally dependent on the growing of sugarcane in Mossman region.
Vinod Vallaiyl / Director of Operations ToroZ:
 Vinod is currently heading the operations for ToroZ, a subsidiary of NamZ with a factory in Malaysia that produces WhatIF Noodles, Shakes and Soups incorporating the Bambara groundnut.