by E-lyn Tham • 08 Apr 2022
What exactly is plant-based milk and why is it good for you? Here's the lowdown.
You are what you eat and drink. PSA: if you haven't really thought about what you've been putting into your body, now is the time for a change! It's always good to start small to help your body adapt. So, how about swapping out your regular milk for plant-based milk? Here's why…
1. Plant-based milk packs a mighty punch
So, what exactly is plant-based milk? It's a non-dairy beverage made entirely from plants. One example is the WhatIF Foods' BamNut milk series made from Bambara groundnuts (or BamNuts) from West Africa. How's this for size: the nuts comprise 20% protein and 5% oils. They contain all the essential amino acids and nutrients needed to give us that extra energy boost!
2. Anyone can consume it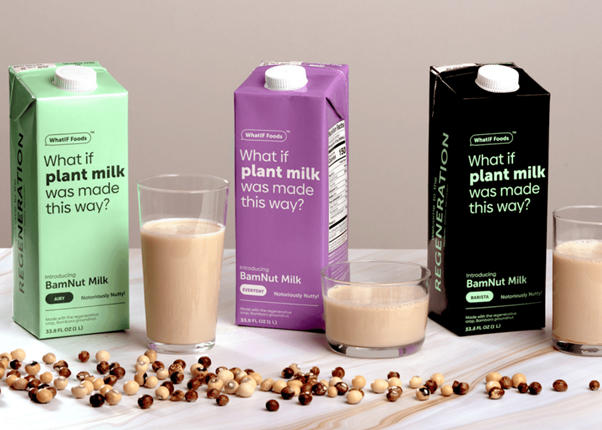 Lactose-intolerant people, we're looking at you. Gone are the days where you would stare longingly at anything milk-related (ahem, bubble tea). Now, you can get in on the action because plant-based milk is — get this — entirely dairy-free!
3. It helps save the planet
Did you know almost 80% of Gen Zs and millennials suffer from climate anxiety? Nowadays, many aren't content to simply shovel food into their mouths without a second thought. Instead, they actively seek out foods that have a positive impact on the environment and communities.
Hip, hip, hooray, such a movement isn't going unheard! Companies like WhatIF Foods seeks to champion such a mindset, producing food that enables about 30 million consumers around the world to lead regenerative change. Doing so saves CO2 emissions equivalent to 1,000 Boeing 737 flights around the world. It also saves enough water equivalent to serve the water needs of all North Americans for a year. Imagine that!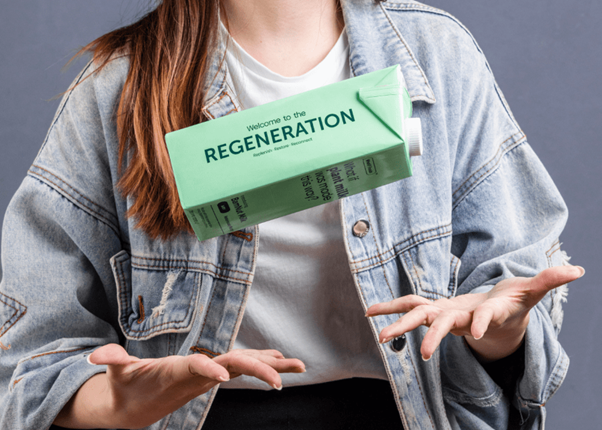 And when it comes to BamNut Milk, the BamNuts are grown on degrading lands, giving them a new lease of life. No pesticides or fertilisers are needed, with plenty of new jobs created for farmers. This milk is made according to the three pillars of the WhatIF way: Replenish, Restore and Reconnect. And that's basically how we should be living our lives, don't you think?
That's not all: the BamNuts have a tiny climate footprint and contribute towards a regenerative food ecosystem by diversifying food consumption.
4. And it tastes really good, too!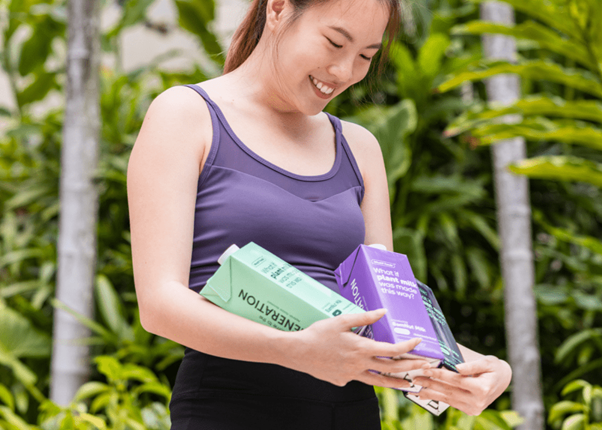 With all that healthy speak, how about the flavour? Rest assured that the BamNut Milk doesn't compromise on taste at all, producing a creamy, nutty goodness that's perhaps even borderline addictive. Take your pick from the BamNut Milk Everyday, BamNut Milk Barista, or BamNut Milk Airy.
Plus, if you're concerned about animal welfare, these milk alternatives are ideal for your non-dairy fix!
5. Try it out and win a free movie screening
Can't wait to get your hands on some? Head straight for any Cold Storage outlets. Even better, there's an ongoing promotion until 15 April 2022, where a minimum $15 purchase of WhatIF Foods products gives you a chance to win a movie night out.
Up for grabs: two tickets for 'Kiss The Ground' screening at The Projector on 22 April (that's Earth Day itself). It also comes with a complimentary meal that's created based on a regenerative menu using WhatIF products. Kiss The Ground is an inspiring film revolving around a group of activists, farmers, politicians and more using regenerative agriculture to fight climate change. Think that sounds familiar? Yes, it's exactly what WhatIF Foods is all about.
Psst: we love how the brand takes it up a notch by partnering with susGain, pledging to plant a tree in Indonesia's rainforests for every purchase made. How's that for helping our dear old planet!
So, drink up 'cos it's a win-win situation. Are you ready to do your part?
This post is in partnership with WhatIF Foods.
Explore more at whatif-foods.com and follow them @whatiffoods.