A pandemic may have thrown global food supply chains into disarray, but new and innovative methods are reshaping food systems, from farm to fork
Over the past few months, we've learnt that conventional methods of food production, distribution and consumption can be improved in terms of sustainability and food waste management. The Covid-19 pandemic has not only disrupted lives and livelihoods, but also magnified these issues.
Businesses have had to change the way they operate. The adoption of new technologies such as automation and digitalisation has gathered pace, thus preparing the ground for healthier, more resilient and sustainable food systems within and across borders.
"Covid-19 has cast a spotlight on the interdependencies throughout global supply chains, including the food production and logistics processes," says Mr Mikkel Larsen, chief sustainability officer at DBS. "In particular, it has shed light on the necessity for local capabilities for food production especially with movement restrictions and lockdowns."
Mr Larsen believes that Singapore can do more to mitigate these disruptions through the use of new technologies which will create more food resilience in the long run. "AI and big data can be used to drive early warning systems through innovative platforms that detect disruptions from climate change, political and social instability or disease outbreaks. Harnessing the availability of such technologies on the market will allow us to manage and minimise food security risks throughout our supply chain."
We speak to some forward-looking social enterprises to glean insights on their food security, sustainability and waste strategies, and how tech has helped them in their processes.
Technology and automation: Polybee
Local start-up Polybee seeks to address the issue of food production efficiency through the use of artificial intelligence and automation. Their autonomous drone systems make indoor pollination in greenhouses and vertical farms a viable, affordable and scalable option for farmers.
"Our autonomous systems for pollination are built upon three major pillars of technologies: micro-drones capable of precise control, computer vision for perception and yield analytics, and software platform for the users to deploy the fully autonomous solution," says founder and chief executive officer Siddharth Jadhav.
"With these systems, we can ensure that a high proportion of the flowers are pollinated to a maximal extent, thus resulting in lower rejection rates and higher yields," he says.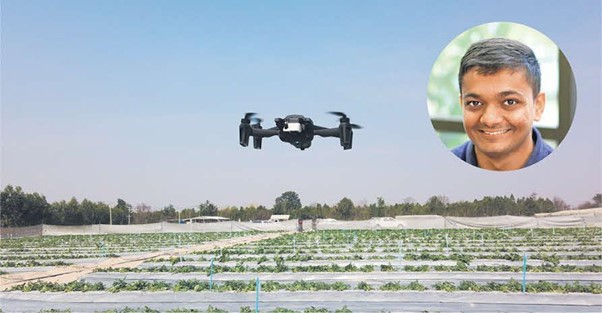 A drone deployed for measuring plant data in plant breeding. (Right) Polybee founder and chief executive officer Siddharth Jadhav. PHOTOS: POLYBEE
For Mr Siddharth, automation and digitalisation play important roles across different areas of the food value chain, and will be highly beneficial in food production capabilities.
"In agricultural production, digitalisation and automation promise not just lower operational costs, but also better yields. In downstream logistics, the use of computer vision for quality control reduces waste and speeds up quality checks.
"We've barely scratched the surface in digitalisation and automation of the global food value chain. These examples just illustrate the immense potential we are to witness in the years to come, such as automation of harvesting as well as pollination to reduce dependence and cost of labour," he adds.
Polybee is a top 10 finalist for the DBS Foundation Social Impact Prize at the Lee Kuan Yew Global Business Plan Competition.
Sustainability and diversity: WhatIF Foods
Covid-induced disruptions to food supply chains have exposed vulnerabilities of import dependent countries worldwide, including Singapore. Ninety per cent of the nation's food is imported from 170 countries and regions. DBS Foundation Social Enterprise Grant Awardee WhatIF Foods aims to support crop diversification to strengthen the nation's food security.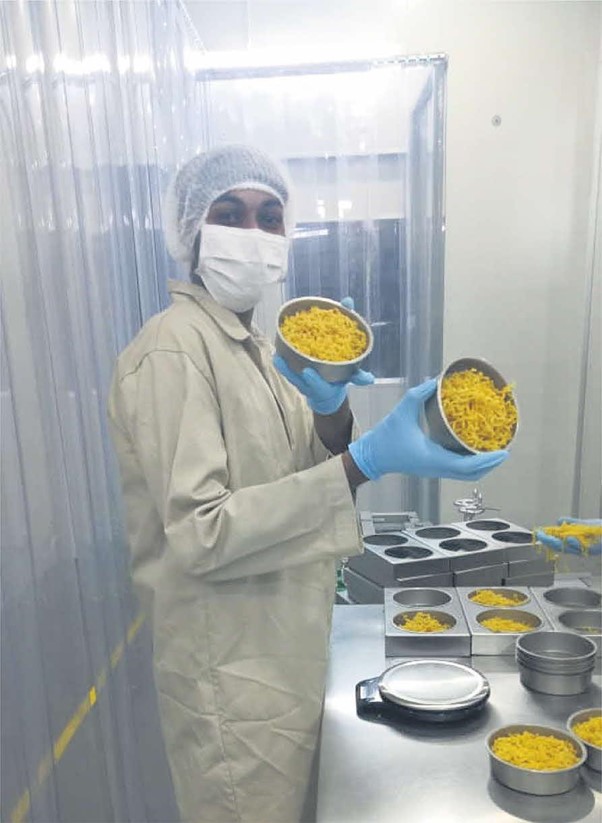 Bambara Groundnut Noodles produced by WhatIF Foods. PHOTOS: RACHEL STEVEN & MORITZ LANGWALLNER
"We hope to enhance Singapore's food security by utilising climate-resilient crops that can be grown in multiple regions in the world," says Mr Christoph Langwallner, chief executive officer and co-founder of NamZ, the company behind WhatIF Foods — the brand produces a range of convenient food products. They include Moringa and Bambara Groundnut Noodles made with a proprietary technology similar to air-frying.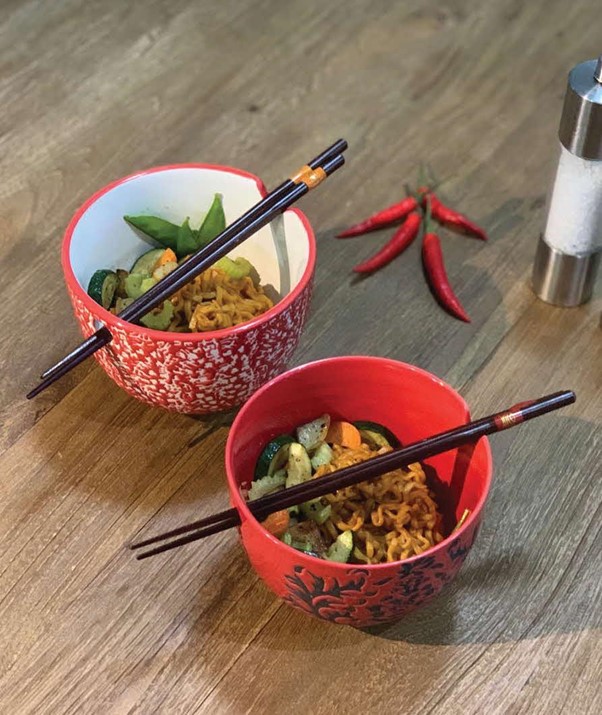 "At WhatIF Foods, we incorporate underutilised crops, such as grains and legumes in our products. By importing these crops from multiple countries into Singapore, we aim to diversify our supply chain for our products, thereby becoming more resilient against disruptions in global food supplies."
Mr Langwallner envisions a healthier future for food, where farmers, industry and consumers will all benefit as a result of a focus on sustainability and health.
"We want to make it easier and more pleasurable for the consumer to switch to healthier and more sustainable foods by offering tasty convenience products that can be easily prepared and that appeal to most taste buds. Additionally, given that the world's climate is rapidly changing, agrobiodiversity is the way toward a sustainable future."
Excess and waste: TreeDots
By connecting suppliers of unsold food products with buyers, DBS Foundation Social Enterprise Grant Awardee TreeDots helps to reduce food waste. During the circuit breaker period that ended on June 1, TreeDots looked for new ways to overcome logistical hurdles and managed to reach out to even more suppliers and consumers through tech and social media.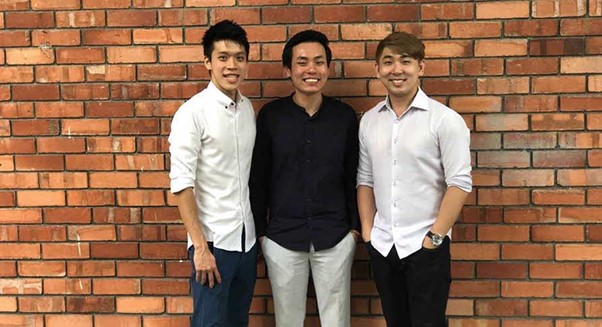 TreeDots founders (from left) Tylor Jong, Nicholas Lim and Lau Jia Cai. PHOTO: TREEDOTS
"Group buys are still a very new concept in Singapore, although it's becoming popular in other parts of South-east Asia and is extremely common in China," says Mr Nicholas Lim, co-founder and chief commercial officer of TreeDots.
"We are glad to have been one of the first few offering group buys during the circuit breaker, and we have seen an increase in demand for this feature in Singapore due to the cost savings and a sense of kampung spirit that group buys generate."
TreeDots intends to extend its services to help e-procurement so it can gain a better understanding of in-demand food choices and further reduce waste.
"By serving as a platform, we are able to gather data on the real volume of food needed at any one time thus preventing the need for excessive overstocking," Mr Lim says.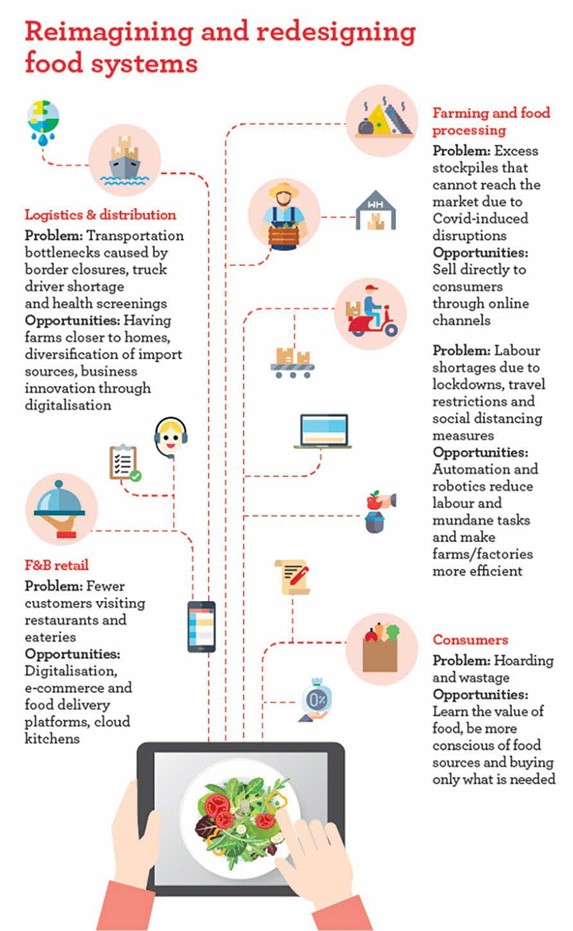 Explore more at whatif-foods.com and follow them @whatiffoods.