As consumers look for ways to incorporate plants into their diets—and reduce animals' wear-and-tear on the planet—milk alternatives continue to grow.
Denis Faye | Jul 07, 2022
"Got Milk?" used to be a relatively easy question, but those days are long gone.
A visit to your local market reveals a dizzying array of choices. In addition to the various dairy-based options, you'll find white beverages made from soy, oat, almond, rice, hemp, cashew, coconut—and the list keeps growing. In fact, according to market and consumer data aggregator Statista, the market for milk alternatives is over $3 billion in the United States alone.
There are a few reasons people chose plant-based milks, mostly related to their health or the environment. Some brands manage to address both of these issues, but a new generation of companies is upping the ante by offering milks that aren't just healthy and sustainable—but also use regenerative and fair-trade farming practices. In other words, their goal is to produce products that make the world a better place. They're accomplishing this in very different ways.
Sustainable sourcing from 'forgotten crop'
Singapore-based WhatIF Foods uses an obscure African legume called the Bambara groundnut to make both milk and noodles. Drought-resistant Bambara groundnuts not only grow in marginal conditions, they release nitrogen to improve soil fertility. "The plant doesn't need a lot of care and attention," explains WhatIF Chief Commercial Officer Andrew Reeves. "It doesn't need any fertilizers or any pesticides and it will find its own water. This plant developed really long roots so it will go wherever the ground water is; it will find it."
Along with CEO Christopher Langwallner, Reeves learned about Bambara groundnuts from a University of Nottingham Malaysia investigation into forgotten crops. The pair quickly saw the altruistic business opportunity.
"We basically consume 60% of our calories from about 12 food items," Reeves says, "and there are thousands of different products on this planet that we could eat, like Bambara groundnuts, but they've either been forgotten about or have been neglected because they didn't fit with a streamlined food production system."
WhatIF developed Bambara groundnut flour that they use in their milk as well as instant noodles featuring a patented "no fry" technology. The flour uses the entire nut, except the shell, which the company converts into biochar to be added back to the soil. After all, as Reeves points out, "It makes no sense to create waste and create byproducts."
Using the entire nut means WhatIF's products deliver all the nutrition it has to offer. "From a consumer's perspective, you've got great tasty products that you don't have to feel guilty about eating because it's nutritionally satisfying," Reeves says. "It's got a lot of protein, a lot of fiber, there's iron, magnesium, potassium—there's other goodness inside."
One challenge to using this forgotten crop is obtaining conventional certifications, specifically organic certification. While they are Non-GMO Project Verified, WhatIF's products do not currently carry an organic seal, given Bambara groundnuts "fall outside of the current regimens of the certification process," according to Reeves. "It's something we would like to do because it's something that consumers recognize, but we don't think it's that critical. It's more important we do satisfy those organic principles that certification is supposed to be protecting, which we do."
WhatIF continues to expand internationally, with their recent launch in the United States and more countries on the roadmap.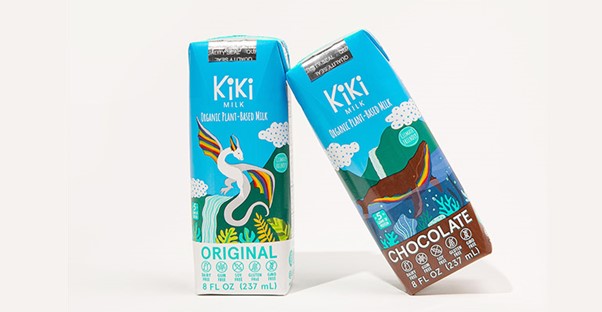 Clean, organic and carbon neutral
Instead of focusing on a single plant, PlantBaby co-founders Lauren and Alex Abelin took a multi-ingredient approach when developing Kiki Milk, a USDA Organic, plant-based milk designed specifically for kids—although they're quick to point out that adults can drink it too.
When their son Alakai was born, the couple struggled to find an infant formula that didn't contain dairy or soy. In their exploration, they also realized the market lacked nutrient-dense, plant-based milk specifically for kids, so they went into their kitchen in Hawaii and got to work. "We used what we could locally—local coconut and seeds for the start, then boosted it with superfoods," says Lauren Abelin, "It evolved from there. We assembled an amazing team of specialists and medical experts to guide us along the way."
The couple also enlisted experts to assure ethical sourcing for their ingredients, including partnerships with carbon-assessment company Planet FWD as well as Farmer's Footprint, a nonprofit committed to regenerative agricultural practices. "Those partnerships are to educate us while we scale," Lauren Abelin explains. "They have such deep connections with the farmers across the globe."
In addition to being carbon neutral (with the corresponding certification), all their ingredients are sustainably farmed. Some, including the coconut sugar and sprouted pumpkin seeds, are also regeneratively farmed, with an eye on adding most, if not all, of their ingredients to that regenerative list in the future.
"We basically do everything we can to minimize the impact on the environment," says Alex Abelin.
Apparently, this philosophy has also had a positive impact on PlantBaby itself, considering the company just announced a $4 million seed funding round that included investors Big Idea Ventures and Fund LA.
Although WhatIF and PlantBaby take entirely different approaches, they're ultimately united in their desired outcome, creating plant-based milks and other products that affects positive change nutritionally, socially, and environmentally.
"We have a food system that has become so efficient that it no longer serves the consumer or the planet well," Reeves claims. "We need to rethink the way we're doing things because continuing to go down this route is just going to lead us more and more into disaster."'
"Lauren and I have brought a fresh set of eyes to the food and beverage industry because we haven't done this before," says Alex Abelin. "And as parents, we are pretty passionate about health and wellness. The health of the planet, the health of children. Those are powerful forces."
Explore more at whatif-foods.com and follow them @whatiffoods.