To celebrate #InternationalCoffeeDay, go global with your next coffee recipe.
by Reem Khaleel Oct 1, 2022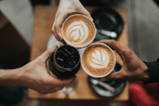 Nathan Dumlao
Calling all caffeine addicts! #InternationalCoffeeDay is Oct. 1, and we're challenging you to trade in your go-to order for an international recipe bound to rock your world. Founded by the International Coffee Organization, this social media holiday first started in 2015 to celebrate all coffee lovers and the amazing people who make it possible to enjoy this caffeinated beverage. (That's right, we're talking about the farmers, roasters, baristas, café owners, and beyond who work together to brew the perfect cup o' joe from the tiniest lil bean.) Instead of sticking with your everyday cup of java on this oh-so-buzzy day, indulge in the viral coffee recipes that unite us from afar. While you're sure to recognize some classics like France's café au lait or Italy's famous cappuccino, others on our list of favorites offer unique flavors and rich histories that are sure to surprise you.
Here are seven of the best viral coffee recipes from around the globe to satisfy your next caffeine craze.
1. Dalgona Coffee (Korean Whipped Coffee) from South Korea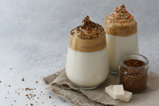 Aleksandra Medvedeva
Dalgona coffee was the first viral coffee recipe to hit TikTok during the pandemic. The video that kick-started this South Korean java trend has since garnered over 2.1 million views. Although the sweetened instant whip (which, ironically, takes about 20 minutes and 400 stirs to create) was first introduced as a street snack in Busan in the 1960s, it didn't begin to grow in popularity until early 2020 after Korean actor Jung Il-woo ordered it on South Korean hit reality show Stars' Top Recipe at Fun-Staurant. Comparing its unique flavor to that of sweet and slightly tart burnt sugar candy, II-woo gave this one-of-a-kind iced coffee his smile of approval. Consisting of equal parts instant coffee, sugar, and hot water, its mousse-like consistency can easily be recreated for a fun spin on your mid-day latte or after-dinner coffee.
Add 2 tbsp coffee, sugar, and hot water to a medium-sized bowl. Using a hand whisk or electric mixer, whip the mixture until it reaches a thick and creamy consistency. Pour 3/4 cup cold milk (vegan and nutty-tasting WhatIf's BamNut Milk Everyday offers a sustainable alternative to cow's milk and can be purchased at 50% off on International Coffee Day with code REGENMILK50) into a glass with ice cubes, then top with your creamy coffee mixture. Using a spoon, lightly fold coffee whip into the milk, or enjoy as is.
Find the full article here.
Explore more at whatif-foods.com and follow them @whatiffoods.